Questions
Week 1 :
When/how did you first watch the show?
If you were on the ark & found out O2 is running out what would you do?
What do you want the future to hold for The 100
If you could spend the day with someone from the show who would it be & what would you do
What character surprised you the most - for better or worse for what they've done?
What character do you think you resemble (looks/personality)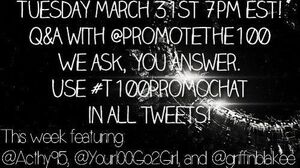 Week 2 :
 What appeals to you most about The 100 and why do you think it's such a good show?
What was the most shocking event that happened so far on The 100 in your opinion?
If you had the chance to rewrite a character and change thier storyline, which character would you choose and how would you change their storyline?
If you were on the ground with the 100, what would your choice of weapon be? OKE
If one of the characters could be your mentor, who would you choose and why? OKE
What is something about The 100 you love that other shows don't have? OKE
Which justice system do you think is more correct? Sky people's justice or Grounders' justice? Why? OKE

Octavia & Lincoln were both wronged by their people. What do you think will happen to them in season 3? OKE

Who do you think will die next season? How and why? OKE
Week 3 :
USA :
Considering that S3 will focus on artificial intelligence, what do you think Raven's role will be?

What is one minor character you wish you knew more about? 
If you could have saved a character for their certain death, who would it be , how would you do it and why?
Not included music used on the show, which song reminds you of The 100
If you could write an original character, what kind of person would it be? Sky People, Grounder or Mountain Men

UK / 2x14 : 
* What did you think of Lexa trying to kill Octavia for knowing too much about the misile.
* In 2x13 the delinquents fought for their lives just like they did in 1x13. Did you like the parallell and did you notice it?
* Last week Jasper's actions echoed Finn's. Do you believe him redeemable?
* What do you think about Jaha's storyline? Is he out of his mind or on a mission?
* Do you think Lexa's judgement is clouded by trying to be cold-hearted?
* Lots of science in this episode. Did you like to see more of the technical part of The100 ?
 If you were the president of Mount Weather, would you have agreed with the Harvest Project or would you have used another way?
* If you could be a character from The 100 for a day, who would it be and why?
 If you were part of the original 100 send to the ground, what role would you have taken on and why?